Sales Assist works best when integrated into your current sales workflows. And since so many of our users are working in Salesforce.com (SFDC) daily, we want to meet you where you're at.
This article outlines how to use the Sales Assist app as a sales user in SFDC.
The Sales Assist app in SFDC can:
Auto-load existing Digital Sales Rooms (DSRs) for a prospect based on a Account, Contact, or Opportunity page
Auto-load DSR Activity stats for that company based on domain
Pre-populate the prospect details, like name, domain, or email in a new DSR
Pre-populate the Account and Opportunity IDs in a new DSR
Before you begin
Some auto-fill abilities require your

Uberflip account to be

connected

to Salesforce

, and that your

admin has allowed API Lookups

, which are needed to grab information not found on the page you're currently looking at.
If your admin has not set up the API lookups needed, you'll need to enter information not found on the current page into the DSR form manually.
You must have sales rep permissions, and a sales license to create new DSRs. If you don't have those, you likely won't be able to leverage the Sales Assist for SFDC app in a meaningful way. Chat with your account admin if you want those permissions.
Find the Sales Assist app in SFDC
Depending on the settings your admin has set up for you, you can find the Sales Assist app when viewing a Contact, Opportunity, or Account Salesforce page. The app can be shown as a widget on the page, or in a custom tab (again, depending on how your admin has set it up).
All of the options have the same functionality built in, and work in the same way. You have all of the functionality of the Sales Assist you find when using it in Uberflip, a browser, or the Chrome extension.

Using Sales Assist in Salesforce
Auto-search for existing DSRs:
When the Sales Assist app opens on any Salesforce page, it'll automatically search for DSRs for the account associated with that page. This means that from the Account, Contact, and Opportunity pages, Sales Assist will always search by the domain (e.g. "acme.com") for all DSRs created for that domain.
If a DSR exists, and there's been recent visitor activity in it, Sales Assist will show you the activity page so you can see exactly who's been viewing what.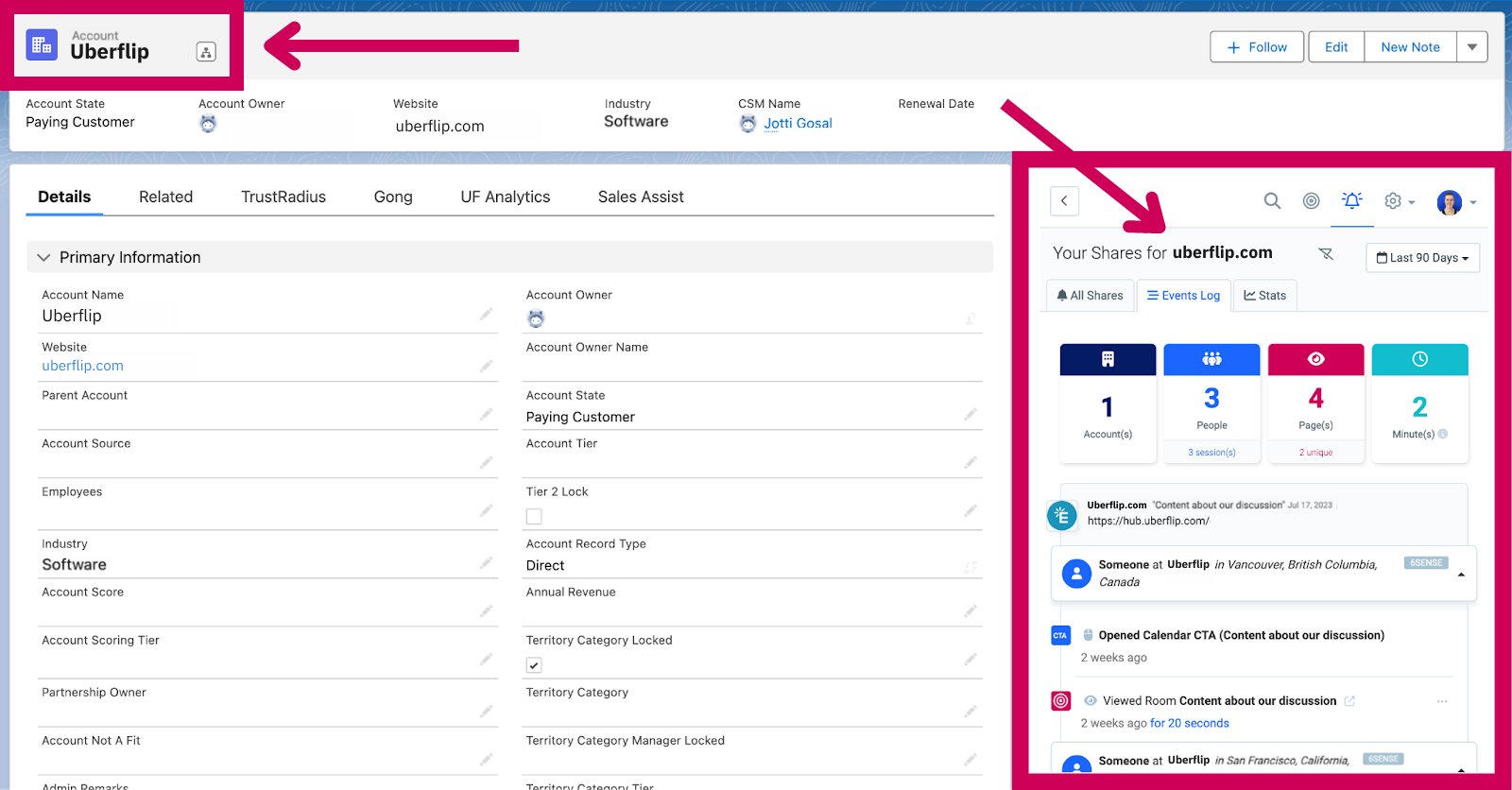 If no DSR is found, Sales Assist will give you the option to create one.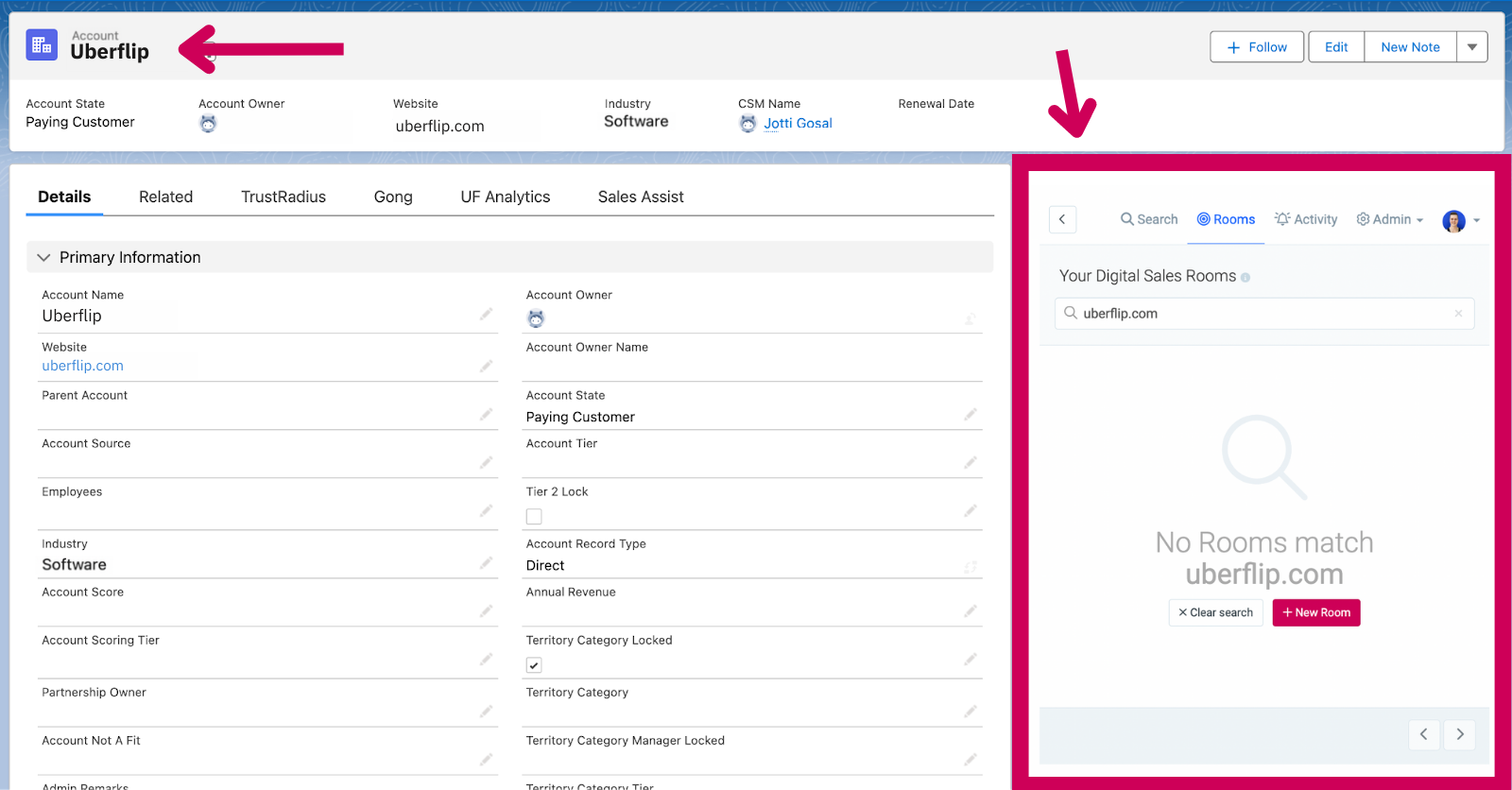 Create a new DSR from SFDC
When creating a DSR in the Sales Assist app for SFDC, you'll have the prospect info pre-filled from Salesforce to get you started, including the:
Company domain
Email
Salesforce Account ID
Salesforce Opportunity ID
To create a new DSR, click + New Room in the Sales Assist app (Rooms section).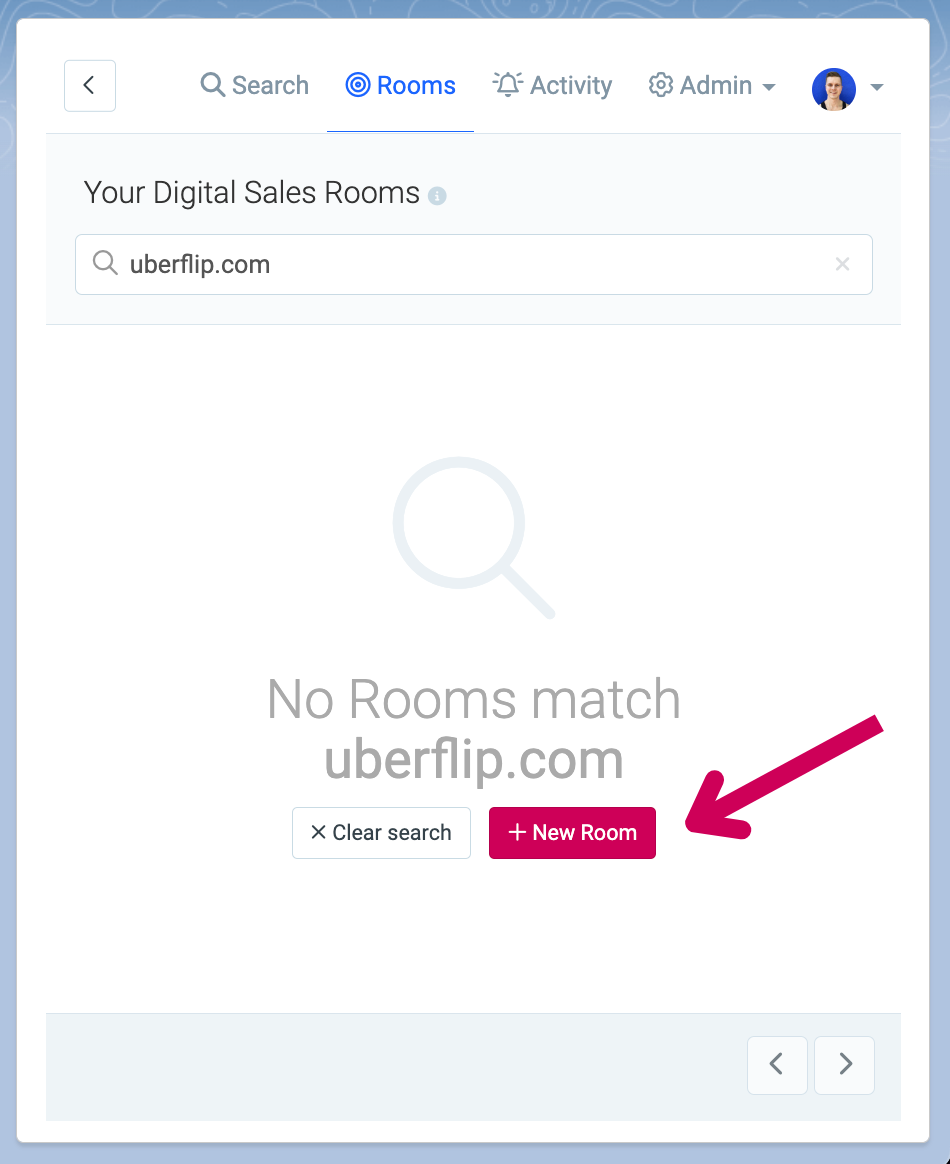 Alternatively, you can go to the Rooms section in the app, clear the search, and click + New at any time to start a new DSR.
The Create a Digital Sales Room form will open. All of the data Sales Assist can access will already be pre-filled for you.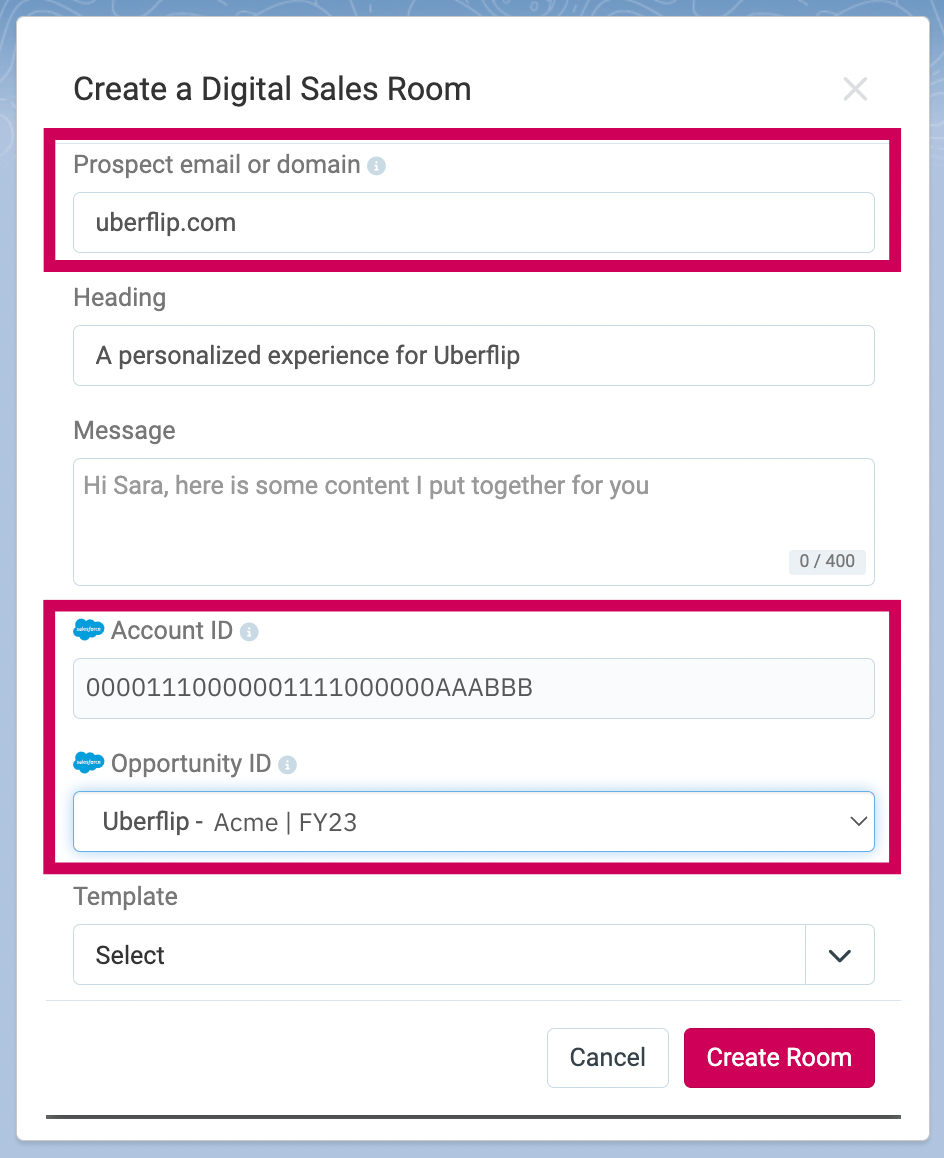 If the account you're working with has multiple opportunities associated with it, a dropdown menu will appear in the Opportunity ID field. Click there to select an opportunity to associate with that DSR.
After the new DSR is created, customizing the DSR is done the same way it's done in your Uberflip account, browser, or Chrome extension. Check out Sales Assist: Create, customize, and share Digital Sales Rooms (DSRs) to see how it's done.
Using Salesforce Account & Opportunity IDs in Sales Assist & Uberflip
With the Salesforce Account and Opportunity IDs attached to your DSR, you can use these IDs to find your DSR in Sales Assist (and Uberflip).
In Uberflip, Account and Opportunity IDs are added to the DSR name, so searching those will bring up the DSR there.
As a Sales Assist Admin, you can also see and search for these IDs in the Account Engagement table of your team Analytics.