Introduction
Accessibility is a must, both online and IRL. At Uberflip, we're committed to helping you keep your Hubs and Streams accessible, so you can deliver great content experiences to everyone.
Website Content Accessibility Guidelines (WCAG) were developed as part of a global initiative that aims to make online content more accessible for everyone. This includes the use of screen readers, tabbed browsing, closed captioning, and more.
We use Website Content Accessibility Guidelines to inform our accessibility choices and offerings.
Accessible content affects everyone. This includes you and your hub. Web pages created within the Uberflip platform must be at minimum Double-A compliant.
Did you know?
Having an accessible Hub or website can increase your SEO ranking.
How does Uberflip help me stay accessible?
Uberflip has two front-end technologies currently in use: one built for accessibility, the other being phased out. Our newer front end tech (Front End V2) brings:
Aria labels

Screen reader compatibility

All necessary accessibility tags

Accessibility features like skip links and improved tab abilities

Improved page flow structure

And more
All Hubs created after March 2020 are V2 Hubs, which include the above features. These features are built in and don't require any set up from you.
Note: Some Hubs created before March 2020 may be V1 Hubs. As we continue to make upgrades, all Hubs will be transitioned to V2 Hubs in the not-so-distant future.
To learn more about Front End V2, check out Uberflip Front End V1 vs. V2 explained.
What can I do to keep my Hub accessible?
Add alt-text to images
When creating a blog post in Uberflip, you can add alt-text to any images you upload. This allows screen readers to describe the image (as outlined by you) to your visitor. To do this, just add an image as usual to a blog post and double-click it to open the image properties.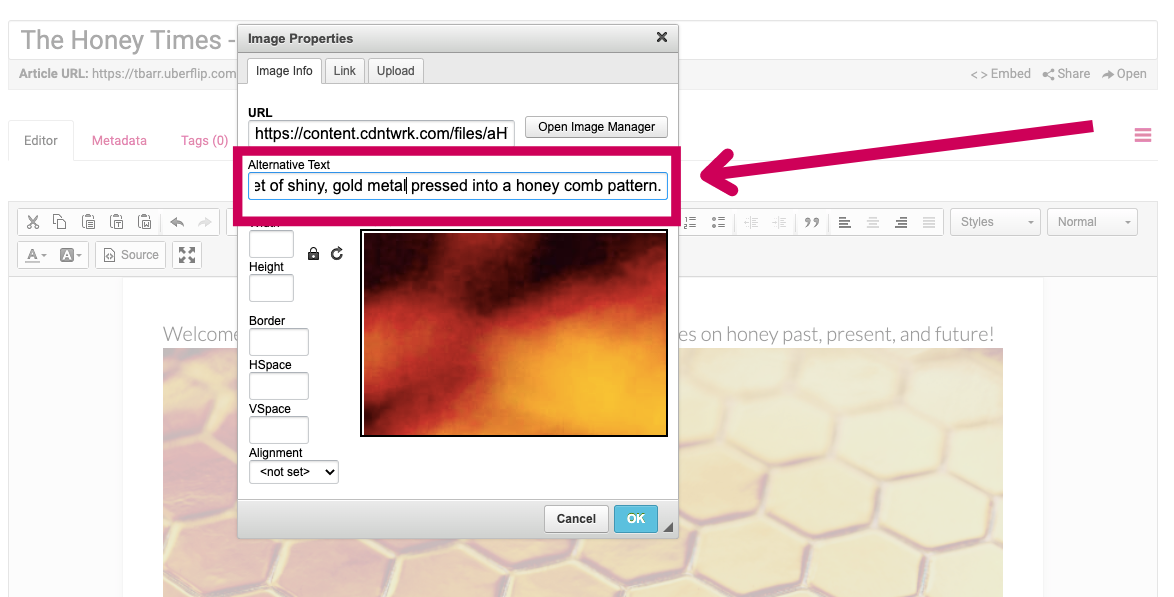 Create accessible PDFs and make them downloadable
PDFs that have been converted to a Flipbook are not easily read by accessibility tools. To assist visitors who may want to consume your PDF using a screen reader, use Website Content Accessibility Guidelines when creating the original version of your PDF.
Then, in Uberflip, turn on the 'Download PDF' option for your Flipbooks. To do this:
Go to the Stream editor page of a Marketing, Sales, or Flipbook Stream

Select the

Options tab

Toggle on the

Show buttons to Download PDF and Expand Flipbook

option
This allows the original PDF version to be downloaded from the Hub, and used effectively with a screen reader.

Check out the Uberflip Accessibility Resource Hub
For more tips and best practices for keeping an accessible Hub, check out the Uberflip Accessibility Resource Hub.
How can I learn more about accessibility?
The Website Content Accessibility Guidelines (WCAG) outline the current standards used by Uberflip and most reputable websites and apps. We suggest all marketers and web creators familiarize themselves with these.
Many regions also have accessibility standards and rules you must follow to operate within them. Though many guidelines overlap with WCAG, some variations may exist. We recommend researching standards in your area to be sure you're compliant.