In this article, we'll look at how you can keep track of how prospects are engaging with content you've shared through Sales Assist. There are two ways to do this:
And if you're a Sales Assist admin, you can view engagement stats across your team in one easy to view dashboard.
Track engagement in real-time with notifications
Sales Assist is able to notify you in real-time whenever there is activity on a link you've shared through the app. And because links created by Sales Assist are unique to specific shares, Sales Assist can attribute activity to specific shares (and, by extension, to the prospect associated with a share). As a result, you'll know exactly when your prospects are engaging with the content you've shared, and can follow up at just the right time.
Here's how it works:
When you share a link to content, Sales Assist starts monitoring that content for activity
While the app is open, Sales Assist checks every two minutes if there has been new activity on your shares
If there is new activity, and that activity came from a link that's tied to a particular share, Sales Assist will notify you in-app and by email.

In-app:
Email:

If you're currently working in the app, it will send you an in-app notification.
If the app is open, but not on the active tab, it will send you a desktop notification.
Click the notification to see more

When enabled, Sales Assist will send an email notification when someone visits your DSR
In the email, click Go to Sales Assist to see how your visitor is engaging

Enable email notifications

In the Sales Assist app, click you profile icon > Edit Profile

Under Preferences, toggle Email Notifications on or off
If the app is not open, you won't get a notification real-time notifications — but you can turn on email notifications so you can be informed when you're not using Uberflip.
And you can always catch up on historical engagement records in the app when you log in again later.
View historical share activity and stats
Your prospects won't always be checking out your shares while you have Sales Assist open. For activity that took place while you were logged off, or for notifications you missed, you can use the My Shares section in Sales Assist to catch up.
To access the My Shares section, click on Shares in the navigation menu

In this page, you'll see three tabs:
Accounts: prospect engagement stats
In this tab, you'll see the engagement stats for each prospect you sent a share to. This includes:
The number of people who engaged from that organization
How many pages they viewed
How long they engaged with your share's content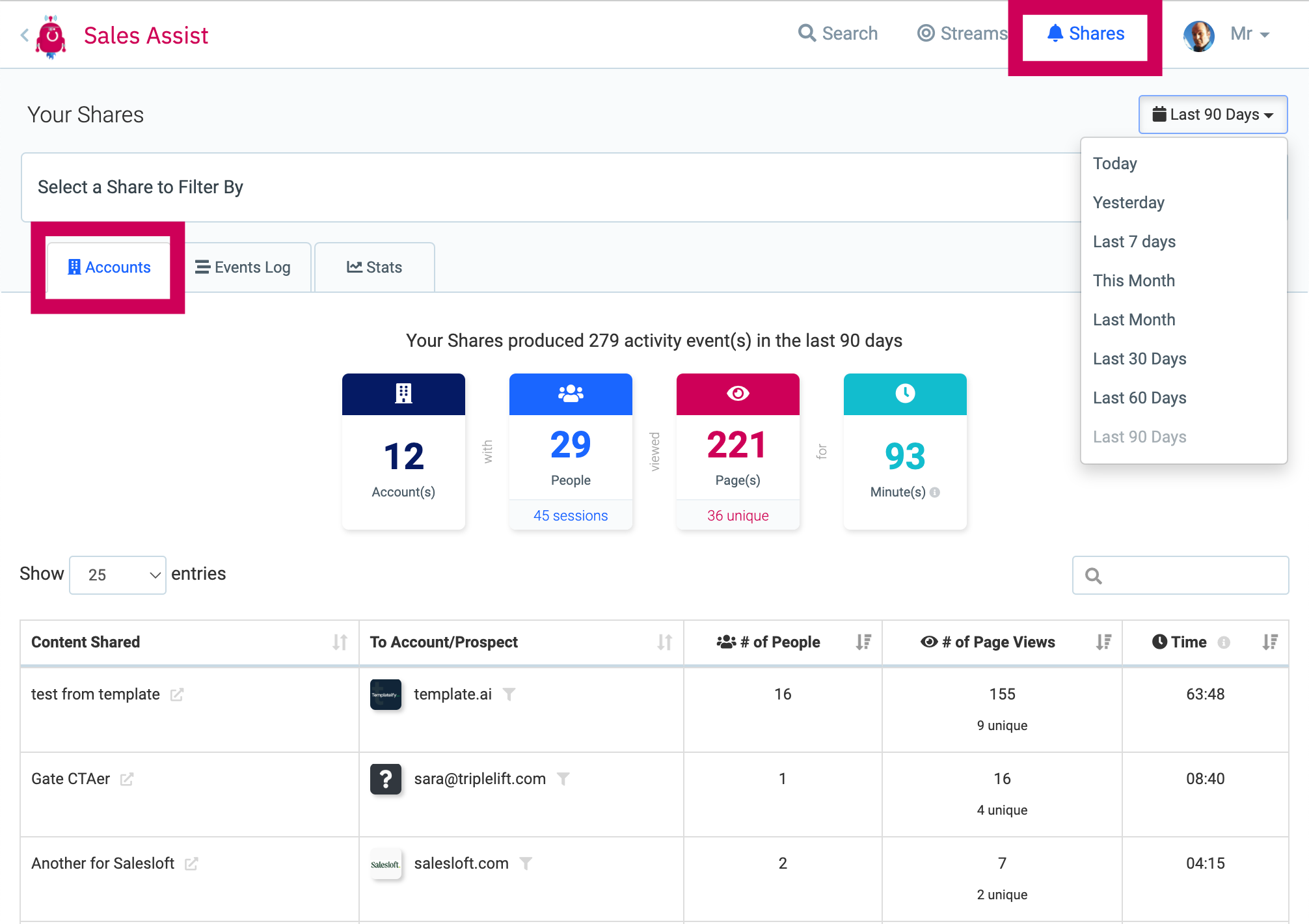 Stats: overall engagement stats
Here you'll see your DSR's activity stats for your selected day range.
This includes Items views, how many people viewed your DSR, and for how long it was viewed. You'll also see performance over time and your top performing Items.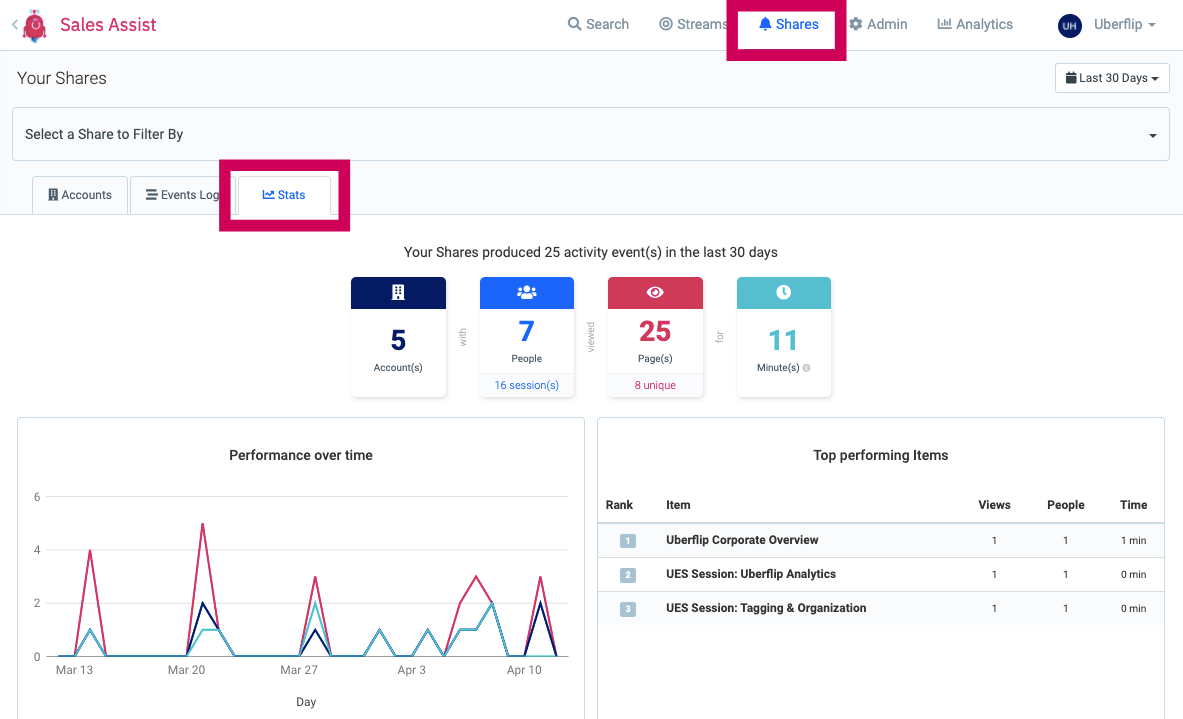 Filter by share to view stats for specific shares.
Events Log: historical share activity
You can visit the My Shares section at any time to review past engagement activity on your shares.
The Event Log tab displays prospects that have been viewing your share for any of your shares in your selected day range.
Click the prospect to see detailed engagement activity

Use the filter dropdown to view older share activity for other shares (which had at least some share activity in the past 90 days). By default, the filter dropdown lists just shares with recent activity. You can also use the search field in the filter dropdown to find shares that do not appear in this list

You can also view historical share engagement for any DSR you've created directly from the My Rooms section. To do so, just click on Rooms, then hover your mouse over the DSR and click the Activity button

Info
Although Sales Assist attributes activity to specific prospects, keep in mind that this is an assumption: since the activity came from a link that's unique to your prospect, it's most likely that this is the person who visited the link — but Sales Assist has no way of knowing for certain.
View team engagement stats (admins only)
As a Sales Assist admin, you can see how your team's shares are performing across the board. On larger screens only, you'll see an Analytics option in the main menu.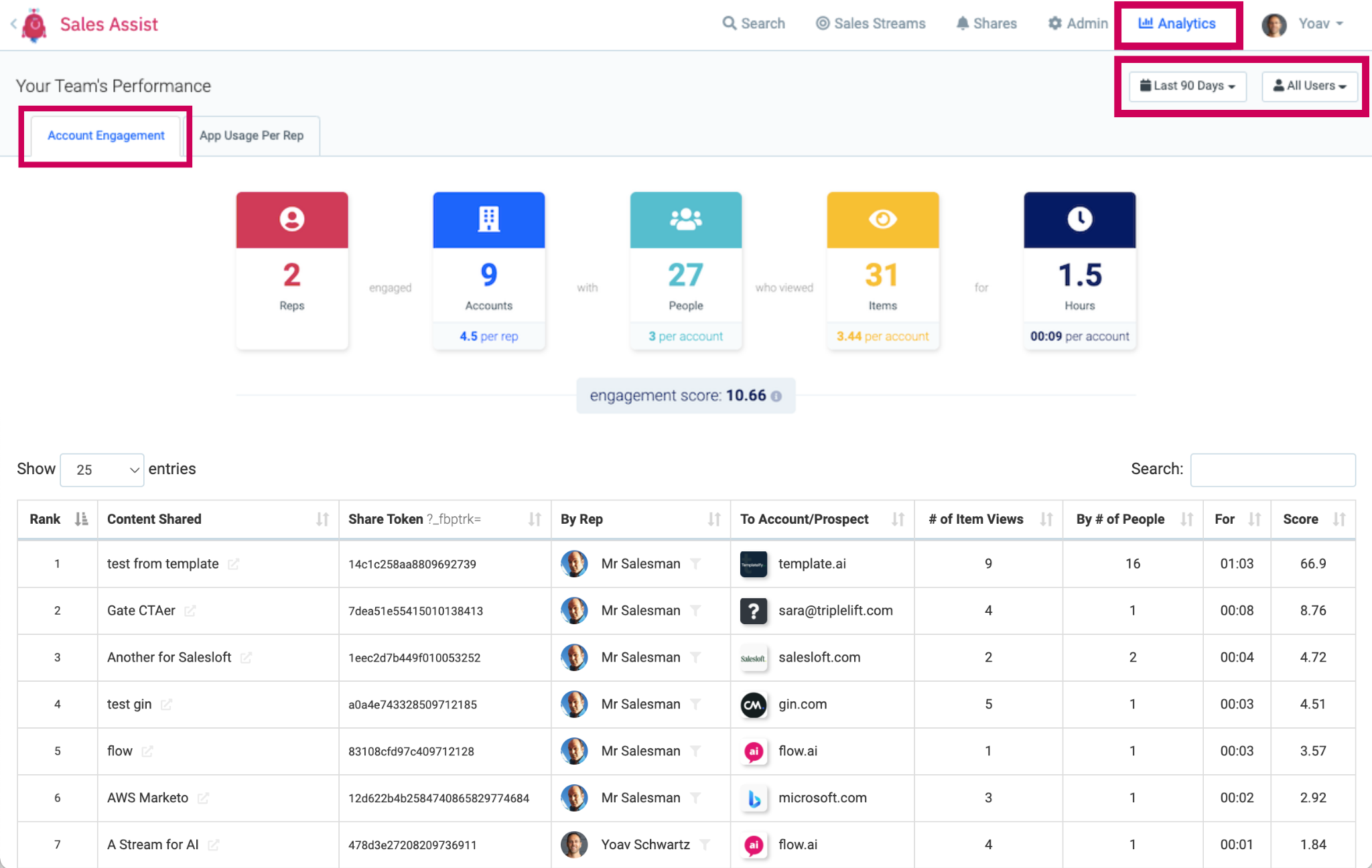 You can filter by day range, user group (if you've set those up), or by a single sales rep.
Across the top of the dashboard you'll see a summary of the share activity within your filtered range. And below that you'll find a table showing all the share stats for your team, group, or rep.
Search and sort the table as needed. And click data points within the table to drill down and see more details.
Check out: Sales Assist: Team stats for admins to learn more about team stats you can access as a Sales Assist admin.