---
A reference guide to the Stream Purpose ID codes that must be used when setting the Stream Purpose for a Stream in Bulk Task Smasher.
---
Before you begin
This article describes the special ID codes to use when setting a Stream Purpose on a Stream with Bulk Task Smasher's Streams > Create Streams and Streams > Update Streams bulk actions. For instructions on how to use these bulk actions, or the Bulk Task Smasher app in general, see the user guide.
Reference: Stream Purpose ID codes
When creating or updating a Stream using Bulk Task Smasher, you can also (optionally) set or change the Stream Purpose for that Stream, just as you can in Uberflip: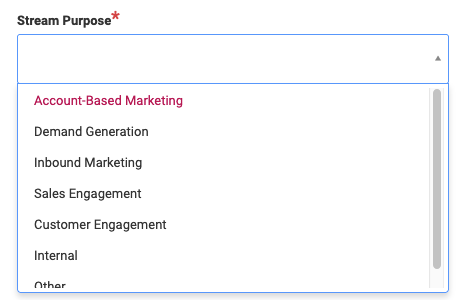 If you would like to set a Stream Purpose using Bulk Task Smasher, the Uberflip API (which Bulk Task Smasher uses to interact with your Uberflip account) requires that you specify the desired Stream Purpose using numeric Stream Purpose ID codes.
Each available Stream Purpose setting has a corresponding Stream Purpose code, and these are outlined in the table below:
| | |
| --- | --- |
| Stream Purpose setting | Stream Purpose code |
| Account-Based Marketing | 1 |
| Demand Generation | 4 |
| Inbound Marketing | 7 |
| Sales Engagement | 10 |
| Customer Engagement | 13 |
| Internal | 16 |
| Other | 19 |