---
Learn all about Uberflip Analytics: what it is, how to navigate it, and how you can get the most out of this powerful tool.
---
Before you begin
To use Uberflip Analytics, your Uberflip user account must hold an Uberflip Analytics View license. A View license is automatically granted to any member of the Account Administrator and Analyst user groups.

Account Administrators can also assign View licenses to individual user accounts that are not members of these user groups via the Licences tab on the user's profile. When a license is assigned to a user, the necessary Uberflip Analytics > View permission will also automatically be granted to that user. Note that assigning this permission without a license will not give that user access to Uberflip Analytics.

Your Uberflip account has a certain number of included View licenses, depending on your pack type. If you require additional View licenses, please contact your Customer Success Manager.
Uberflip Analytics date ranges use a from-until (before) format. This means that the data included in that date range ends at 11:59pm on the day before the final day selected.
What is Uberflip Analytics?
Uberflip Analytics, or "UFA" for short, is Uberflip's business intelligence suite. UFA is specifically designed to help you measure the performance of the content experiences you build with Uberflip.
UFA can provide you with the data you need to answer questions about your content and the way your prospects and customers experience and engage with it. For example, you can use UFA to get answers to questions like:
Which of my inbound channels are bringing in the most engaged visitors?
Which of my CTAs are most effective at converting visitors into leads?
How are visitors moving through my content?
What types of content are my visitors engaging with the most?
UFA is powered by the industry-leading Looker data analytics platform.
Access Uberflip Analytics
You can access UFA at any time while you're logged in to Uberflip. Simply click on Analytics in the topbar menu:


Uberflip Analytics always opens to the Home dashboard, which provides a high-level overview of key performance data across all Hubs in your account.
Navigate Uberflip Analytics
To get around UFA, use the sidebar menu. From this menu, you can navigate to the various dashboards and reports available in UFA, as well as UFA's settings: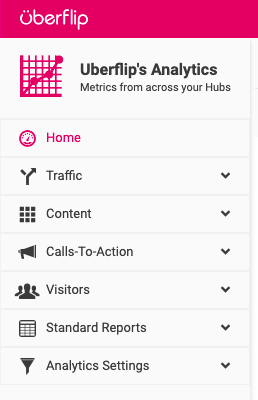 Dashboards
Dashboards are the focal point of the Uberflip Analytics interface. These are collections of data visualizations ("widgets") that focus on particular areas of interest, such as how visitors are reaching your Hubs, or how your Form CTAs are performing.
In addition to the general Home dashboard, UFA offers a variety of more granular and specialized dashboards. These are grouped into four categories based on the type of data they focus on:
Traffic: Where your visitors are coming from
Content: How content and content experiences are performing
Calls-To-Action: How your CTAs are performing
Visitors: How visitors are behaving once they are in your Hubs
These categories are shown as sections the sidebar menu: click on any category to expand it and navigate to the dashboards inside.
All dashboards can be filtered, and you can export data from dashboards — we'll look at these actions in more detail below.
Reports
Where dashboards visualize data to make it more easily digestible, reports display the underlying raw data in table form. Reports are more comprehensive than dashboards, allowing you to dive into the data in much greater detail.
UFA features a number of built-in reports. To view them, click on the Standard Reports section in the sidebar to expand it.
Like dashboards, reports also allow for filtering and data exports.
Note
Because they can contain a large amount of data, it's normal for reports to take a little longer to load than dashboards.
Settings
Use UFA's settings to customize it to your organization's needs. See these articles for more details:
Basic Uberflip Analytics features
While viewing dashboards and reports in UFA, you can refresh the data at any time, as well as learn how specific data points are defined or calculated.
Refresh data
Uberflip Analytics automatically displays the most up-to-date data available. Here's how it works:
When you open a dashboard, the most recent available data will be displayed. In most cases this will initially be cached data from the last time a refresh occurred. You can see how recent the cached data is in the top right corner:

As part of loading a dashboard, Uberflip Analytics also checks if more recent data is available. If there is more recent data, this is compared to the cached data. If this comparison finds a difference, Uberflip Analytics will automatically start loading the latest data into the dashboard widget. This is indicated by a loading spinner that appears in the top right corner of each widget:

Once the latest data is being displayed across all widgets, the timestamp in the top right corner of the page will display "just now" to reflect this:

In addition to the automatic check that happens when you load a dashboard, you can also force a check for more recent data. To do so, simply click the Run button. You can do this at any time.
If there is no difference between the cached data and the more recently collected data, the dashboard will not update even if you force a refresh (by clicking the Run button). In this case, the timestamp in the top right corner will continue to reflect the last time the data was updated (i.e. the last time there was a change).
Unlike dashboards, reports will always pull in the latest data when they are loaded, and never display cached data.
Note
Currently, Uberflip Analytics takes approx. 1 hour to process and make collected data available, so the latest data is always a minimum of 1 hour old.
Learn more about data points and visualizations
To learn more about how a data point is defined, or how a visualization works, use the built-in tooltip functionality. Throughout Uberflip Analytics, you can find tooltips in two places:
Visualizations: Dashboard visualizations where a tooltip is available have a small icon beside their title. Hover your mouse over this icon to view a tooltip that explains what the visualization shows:

Tables: Anywhere you see a table (such as in some dashboard widgets and all reports), hover your mouse over a table header to see a definition of that data point:

You can also find more in-depth information about UFA's available data points in the data dictionary section of Uberflip Help.
Advanced Uberflip Analytics features
UFA also features various advanced functions that allow you to filter data in various ways; drill in to dashboards for additional detail; download, send, and schedule dashboards, and create custom reports.
Info
Uberflip Analytics date ranges use a from-until (before) format. This means that the data included in that date range ends at 11:59pm on the day before the final day selected.

Example: A date range of 01/01/2022 - 07/01/2022, will return data from 01/01/2022 at 12:00am until 06/01/2022 at 11:59pm.
Filtering data
Every dashboard and report in Uberflip Analytics has a set of built-in filters. Use these filters to narrow down the data displayed in the visualizations in various ways, for example by timeframe, Hub, tags, etc.
Filters are available on all dashboards and reports, and are shown in a panel at the top:

Some filters are universal and appear on all dashboards/reports (such as View Date), while other are contextual, and are determined by the data in the dashboard or report.
To learn how to set filters in UFA, see this article:
Drill into dashboards
You can drill into dashboards to view additional or contextual data. There are two ways to drill in UFA:
Visualization drill: You can drill into the underlying data for any dashboard visualization, such as large number or chart widgets.
Stream and Item drill: In dashboard tables that display Streams or Items, you can drill into an individual Stream or Item to see more data about it.
To learn how to use UFA's data drilling features, see this article:
Download and send dashboards and reports
UFA can package and send dashboards so that you and others can view or use the dashboard data outside of the Uberflip Analytics interface. In UFA, you can:
Download full dashboards in PDF or CSV format
Send dashboard data to various destinations on demand or on a schedule
These features are especially useful for keeping stakeholders in your organization who don't typically use Uberflip up to date on your KPIs.
To learn how to download, send, and schedule dashboards, see this article:
Create custom reports (requires a compatible pack type or module)
If you're on Uberflip's Enterprise pack type, or you have added the Attribution module to your Uberflip subscription, you can use UFA Explore to dive into the raw data and create your own custom reports.
To learn more about this powerful feature and how to use it, see this article: