---
Find out where to get help when you run into problems with an Uberflip Marketplace app.
---
Where do I get help for an app that I installed from the Uberflip Marketplace?
In general, the publisher/developer of an Uberflip Marketplace app will be your primary source of support for their app. You can find their contact details in the app's Marketplace listing, in the links on the left side: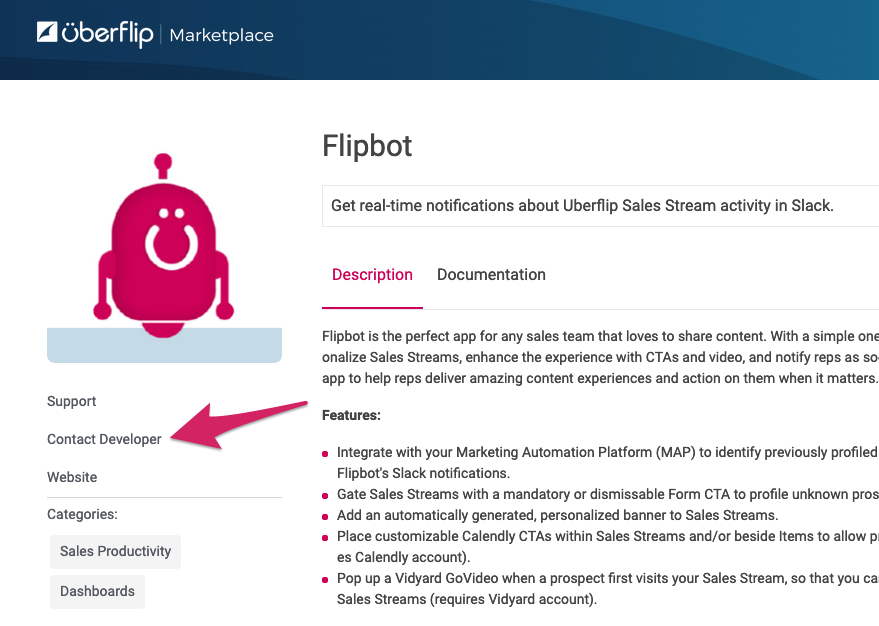 Publishers will usually include information about how to get support in the app listing itself, or you can click on the publisher name to find their contact details.
For any questions relating to an app itself, its features and functionality, or bugs and other issues, please be sure to contact the publisher directly. Uberflip Support doesn't have any insight into most third-party apps, so unfortunately we can only provide basic Marketplace-related troubleshooting, e.g. if you're having trouble finding or installing an app, etc.
What about apps where Uberflip is listed as the publisher?
Certain apps are made by Uberflip to help connect Hubs with a third-party service: on these apps, you will find Uberflip listed as the publisher. Apps on our marketplace may not be tested, documented or supported by Uberflip in the same way we support our core offerings. Although these apps connect to third parties, those companies do not provide support for the apps directly.
If you need some help with an app where Uberflip is the publisher, please contact Uberflip Support.