Objective
Embed a Marketo Form directly into any Item of content in your Hub. This displays the Marketo Form when a visitor views that Item, allowing them to complete and submit it.
Prerequisite: Select Marketo Form and Get Embed Code
To begin, you will need to choose the Marketo Form you want to use and get its embed code, which will allow you to embed it into your Hub content.
For instructions on getting the embed code for a Marketo Form, see this article from Marketo:
Marketo: Embed a Form on Your Website
Once you have copied the embed code, follow the instructions below to proceed.
Note
When you get the embed code in Marketo, make sure the the Code Type is set to Normal: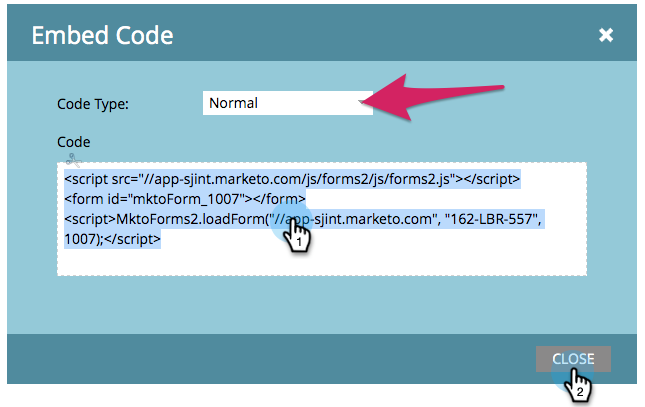 Otherwise, the Marketo Form will appear as a lightbox floating on top of your content.
Embed a Marketo Form into a Hub Item
Once you have the Embed Code, all you need to do is paste it into the Hub Item where you want the Marketo Form to be displayed.
Log in to Uberflip and navigate to the Hub that contains the Item where you want to embed the Marketo Form.
In the sidebar menu on the left, click on Content.
On the right side, you should be on the Streams tab. Click on the Items tab.
Find the Item you want to work with in the list and click on it to edit it.
The Edit Article view will appear, and you should be on the Editor tab. Here, click on the Source button:

This will display the HTML version of the content Item. Here, simply paste in the embed code from Marketo in the location where you want the Marketo Form to appear.
Finally, click on Publish/Publish Changes to save your changes. The Marketo Form will now appear in the Item when it is viewed in your Hub.
Additional Notes
This process is mainly useful if you are already using Marketo Forms to drive automation, and want to use the same Forms in your Hub as well to continue leveraging these existing workflows. If you are mainly looking for a way to capture lead information, we recommend using a Form CTA instead.