---
Learn how to integrate with Disqus to add visitor commenting to your Hub content.
---
Before You Begin
To set up a Disqus integration, you need to be in the Account Admin, Content Manager or Demand Generation user group(s).
You will also need a Disqus account. All types of accounts will work (both paid and free).
Important: Ads on Disqus Basic Accounts
While you can use a free Disqus account (Basic) with your Hub, be aware that this type of account is ad-supported, which means that ads will appear on any web property that you integrate with Disqus — including your Hub. You can see an example of this in this article.
If you intend to integrate Disqus with your Hub, we strongly recommend doing so only with a paid Disqus account (Plus or Pro).
About the Disqus Integration
Disqus is a service that lets you add commenting functionality to any of your web properties, including your Hub. This allows you to engage directly with your visitors and prospects, and build a community around your brand and content: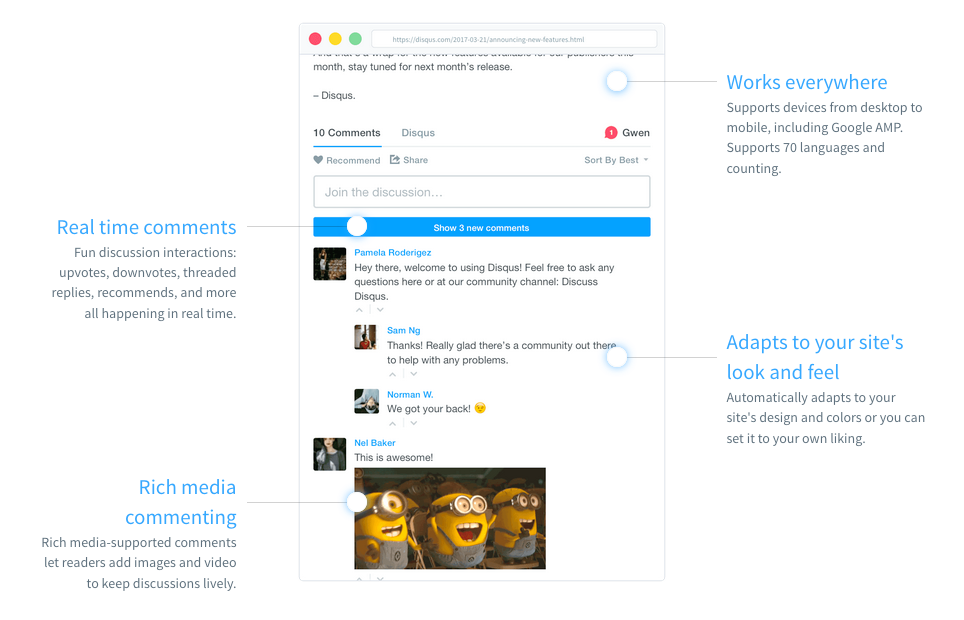 To learn more about Disqus and its features, check out the Disqus website.
Prerequisite: Get Your Disqus Shortname
To use Disqus with your Hub, you will need to register for a Disqus account (if you don't already have one), then add your Hub to the account by creating a new site in Disqus. You can go straight to the Disqus Create a new site page by signing in on this page:
https://disqus.com/admin/create/
As part of creating your Hub as a new site in your Disqus account, you will also create a shortname, which is the unique identifier for your site in Disqus. It is automatically generated for you when you enter a Website Name during the site creation process in Disqus:

The shortname is important, as you will need it to set up the integration. For more information about Disqus shortnames and how to find yours, see this article from Disqus:
Note
To be used with your Hub, the shortname that you choose can be no longer than 30 characters.
Connect Your Hub to Disqus
All you need to do to integrate your Hub with Disqus is to connect them via the Hub menu.
Log in to your Uberflip account and select the Hub on which you want to create an integration.
In the sidebar menu on the left, click on Integrations.

On the right, you'll see a list of services that Uberflip can integrate with. Find Disqus in the list, then click on its Connect button on the right (under the Action column) to set up the integration:

A pop-up window will appear. Enter your Hub's Disqus shortname into the field provided:

Click on Connect. You'll see a confirmation message that you're connected to Disqus with the specified shortname:

Click on Close, and you will be returned to the to the Integrations page in your Hub, where you'll now see the shortname listed next to Disqus.
That's it! Disqus is now integrated your Hub, and comment sections will now begin appearing below your Items: