---
Learn how you can integrate Uberflip with the other apps in your marketing tech stack.
---
Before You Begin
To set up integrations, you need to be in the Account Admin, Content Manager or Demand Generation user group(s).
About Integrations
We know that you don't use Uberflip in a vacuum, and that's why your Uberflip account is specifically designed to work together with the other apps in your tech stack. Uberflip comes with all kinds of built-in integrations that allow you to connect your account to external services with just a few clicks. These cover a wide variety of use cases, ranging from lead generation to analytics to sharing and more.
Overall, the more integrations you create, the better: you'll get more value not just from your Uberflip Hubs, but from your other tools as well. For example, if you connect your account to a Marketing Automation Platform (MAP) like Marketo or HubSpot, you can use CTAs in your Hubs to automatically feed leads to your MAP.
Currently, Uberflip has ready-made integrations for all of the following external tools:
Marketing Automation

Marketo
HubSpot
Eloqua
Pardot
MailChimp

Content Sources
Analytics

Bombora
Google Analytics
Google Search Console
Google Tag Manager

User Engagement & Other

AddThis
Disqus
BrightInfo
Pinterest Site Verification
Optimizely
Set up an Integration
Setting up an Integration is easy, and only takes a few moments.
Log in to your Uberflip account and select any Hub.
In the sidebar menu on the left, click on Integrations.

On the right, you'll see a list of services that Uberflip can integrate with:

Choose the service you want to integrate with, then click on its Connect button on the right (under the Action column) to set up the integration.
The setup wizard for the selected service will now appear in a new overlay window. The setup will vary based on the service, and the wizard will walk you through the process.
That's it! Once you have completed the setup, your Integration should be good to go. Depending on the service, you may need to do some additional configuration to make the integration fully functional. See the Integrate With Other Tools category for service-specific guidance.
Manage Existing Integrations
You can manage your current integrations at any time by visiting the Integrations section in your account again. Here, the integrations you currently have set up are marked with a connected tag next to the service name: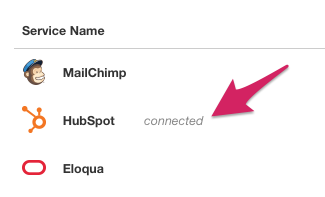 From this menu, you can also disconnect Integrations, or edit them (if they have configurable setup options). To do so, simply use the buttons that appear under the Action column:

These buttons will vary depending on the service to reflect the options available (with the exception of the Disconnect button, which is always available.
Next Steps
Check out the articles in the Integrate With Other Tools category for more information about setting up various integrations to get the most out of them.
Learn about how to set up Form CTAs to generate leads and automatically stream them to your integrated Marketing Automation Platform.
Want to use an integration that isn't already built in to Uberflip (e.g. a tracking pixel)? See this article to learn about adding Custom Code to your Hubs.