---
Do your Flipbooks look different than the source PDF, or are you having upload problems? Learn how to optimize your PDFs to avoid Flipbook conversion issues.
---
Before You Begin
To follow these guidelines, you will need Adobe Acrobat Pro.
The settings described in this article may not be optimal for your specific PDF, and are only intended as guidelines. You should always ensure that your PDF is displaying content properly before uploading it to Uberflip.
Some versions of Adobe Acrobat Pro have a bug where internal page links in the PDF are discarded during optimization. If you need internal page links, either create them after optimizing your PDF, or after converting it to a Flipbook with the Auto-Link or Page Editor tools.
Common PDF Issues
When you upload a PDF and convert it to a Flipbook, you may encounter a number of different issues either during the upload/conversion or with the final Flipbook. Some common issues include:
Processing errors
Elements in the PDF not displaying or displaying in an unusual way
Slow page loading
Transparency issues
General differences between the original PDF and the converted Flipbook
You can resolve many of these issues by optimizing your PDF in Adobe Acrobat. Although it won't fix every issue, optimizing your PDFs is a recommended practice that can help to avoid conversion problems in many cases.
Optimize a PDF
To "optimize a PDF" means to use Adobe Acrobat Pro's PDF Optimizer function. While this can vary between versions, you can generally do this by opening the PDF in Acrobat, then going to File > Save As Other > Optimized PDF.
This will open the PDF Optimizer window, where you can configure settings for the PDF. We recommend that you use the following settings:
General Settings
Under the Make compatible with: dropdown, choose Acrobat 5.0 and later

Images Settings
Leave settings as defaults.
Fonts Settings
Under Font Unembedding Settings, check the box next to Do not unembed any font

Transparency Settings
In the Preset: box, choose the option [Medium Resolution]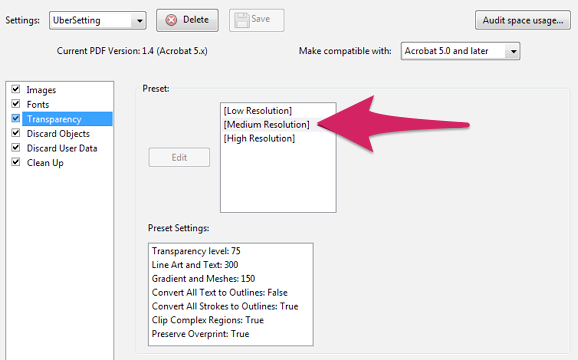 Discard Objects Settings
Under Discard Objects settings, ensure only the following items are checked: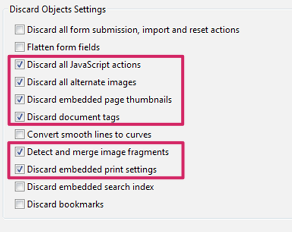 Everything else should be unchecked.
Discard User Data Settings
Under Discard user related information, ensure only Discard hidden layer content and flatten visible layers is checked. Everything else should be unchecked.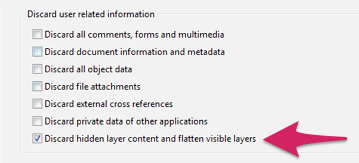 Clean Up Settings
Under Clean Up Settings, use the dropdown next to Object compression options: to select Compress document structure.
Using the checkboxes, ensure that Discard unreferenced named destinations is unchecked. Leave everything else checked.
What's Next?
When you have configured all the settings as described above, click on OK to create the optimized PDF, then review the result. Sometimes you may notice that your images appear pixelated. If that's the case, try choosing a different file type under the Images Settings.
If everything looks as expected, try uploading the PDF to Uberflip again to see if the resulting Flipbook now displays correctly.