---
If you use Custom Code to implement customized trackers on your Hub, here's how you can associate them with Privacy Groups for GDPR compliance.
---
Before you Begin
To use Custom Code, you need to be an Account Admin, Content Manager, or Developer/Designer.
In this article, we'll focus on adding existing Custom Code Blocks to Privacy Groups. To learn about creating Custom Code Blocks, see this article.
Custom Code and GDPR
For any Custom Code Block, you have the option of associating it with a Privacy Group. This is basically the same as associating a pre-built Integration with a Privacy Group in the Hub Privacy Options.
If you assign a Custom Code Block to a Privacy Group, the code contained within the block becomes subject to that Privacy Group, and therefore its setting on the Privacy Policy Page. In other words, it gives customers the ability to toggle the Custom Code Block on and off.
In the context of the GDPR, this is useful for Custom Code Blocks that are used for visitor tracking, or which otherwise collect user data. By associating these Custom Code Blocks with a Privacy Group, you give users the ability to give or withhold consent to them, which is required for GDPR compliance.
Assign a Custom Code Block to a Privacy Group
Assigning a Custom Code Block to a Privacy Group is simple, and you can do it at any time. As soon as it's assigned to a Privacy Group, the Custom Code Block will be controlled by that Privacy Group's toggle on the Privacy Policy Page (on a per-user basis):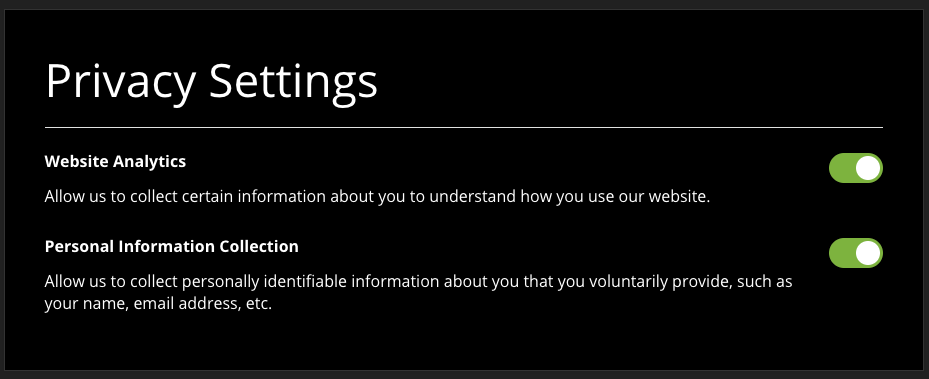 Log in to Uberflip and click on Hubs (select the Hub you want to work with, if you have multiple).
In the sidebar menu on the left, click on Appearance > Custom Code.


You should see your existing Custom Code Blocks on the right. Hover your mouse over the one you want to assign to a Privacy Group, then click on the Edit button on the right.


The Edit Custom Code view will open. Here, scroll down to the Privacy Group section and use the dropdown to select a Privacy Group to assign this Custom Code Block to.


Your change will be saved automatically, and will take effect immediately.