Uberflip brings all of your content together in one place, making it easy to curate and publish content, packaged for any audience.
Good to know
In Uberflip, each piece of content you import or create is known as an Item.
Broadly, there are 2 levels of organization in Uberflip: Hubs and content collections (Streams & Digital Sales Rooms). This article will outline how Items can be organized and curated using these organizational tools.
Account organization at a glance: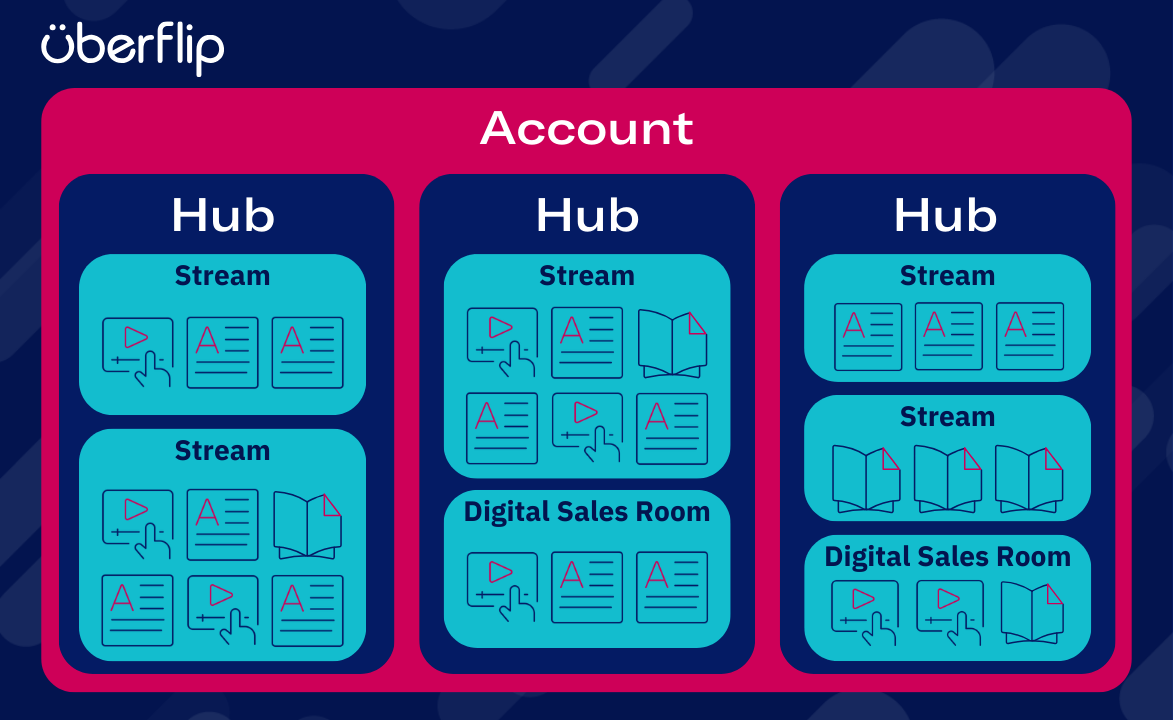 Hubs explained
Every Uberflip account contains at least one Hub. But depending on your situation, you may benefit from a multi-Hub situation.
A Hub is the highest organizational level in Uberflip. They're generally used to separate things like locale, language, or brands. It's an easy way to keep non-relevant content separated, so your users only have access to the content they'll need for the content experiences they create.
Example
If you have teams in LATAM, North America, and Europe, your content may be translated in Spanish, French, and English. But the English language content won't be as useful for your LATAM team.
In this case, you may have a Spanish Hub for your Spanish Content, an English Hub for the North American team, and a French Hub for your francophone marketers.
If you have multiple Hubs in your account, you can switch between them by clicking "Hubs" in the topbar menu in Uberflip.


The Hub level is where you'll import content into your account. That content is then curated into content collections that live within that Hub.
Within a Hub, you also have access to features to manage and activate the content and collections specific to that Hub, features like: Site Engager, CTA Tiles, Smart Filters and more.
Content collections explained
Content collections, are smaller containers for any number of Items within Hubs. They allow you to curate groupings of content to use in your content experience pages. A single Item can be part of as many collections as you'd like.
There are 3 types of content collections in Uberflip:
Marketing Streams: Curated collections chosen for a specific audience. Used in marketing campaigns.
Digital Sales Rooms (DSRs): A collection of content hand-chosen for a specific prospect. Generally created by sales teams using Sales Assist.
Source Streams: Auto-generated collections that house all the Items imported from a single content source into your Uberflip account.
All collection types can be easily added to the pages you create in Uberflip, including those created in Uberflip Pages and Sales Assist. This makes it easy for your team to find and use approved content for any audience.
Ready to start curating content collections? Check out: Get Started: Create a content collection
Tags and Tag Groups
Now that you have an understanding of the ways you can organize your content in Uberflip, learn how to use Tags and Tag Groups to make finding, curating, and utilizing content even faster.
Check out: Item tags and Tag Groups explained
What's next?
Check out: Get Started: Create a content collection
Or check out these are starter series articles: